[Video] How the Interest Rate Increase Will Affect Your Repayments
The video below walks you through how the interest rate increase will affect your repayments by our head Mortgage Broker – Elizabeth Zaki.
Home Loan Market Update – May 2022
For the first time since November 2010, the RBA has raised its official cash rate – from 0.1% taking it to 0.35%. This was above market expectations for a 0.15% hike, and a bit closer to our expectation for a 0.4% move. This article will take you through how this interest rate increase will affect your repayments.
The RBA appears to have partly accepted the argument that it had to do something decisive in order to signal its resolve to get inflation back down. It also announced that it will start quantitative tightening, by allowing its portfolio of bonds on its balance sheet to run down as they mature. This along with the ending of cheap funding for banks under the Term Funding Facility will see a significant decline in the size of its balance sheet next year.
It was interesting to note, that as well as the above announcements, the RBA's commentary was hawkish, indicating it will "do what is necessary" to return inflation to its target range of 2-3%. Even if this required further interest rate increases.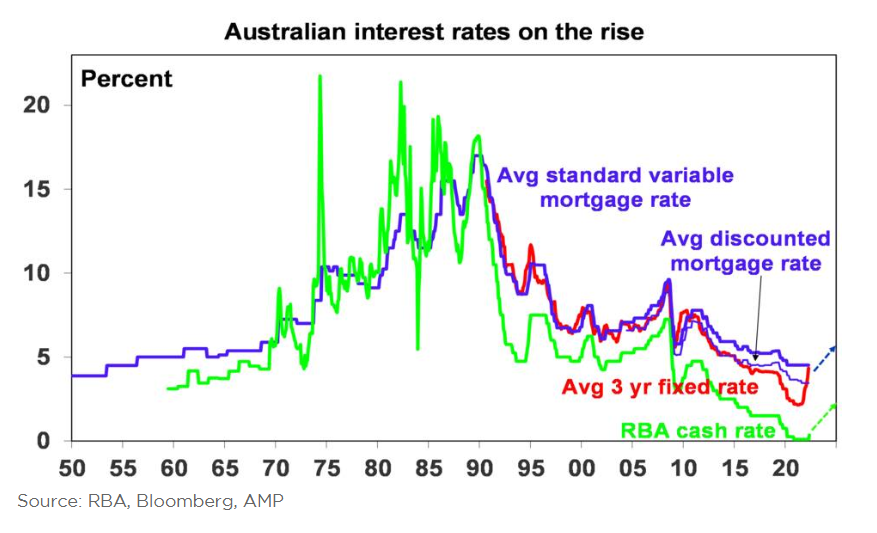 To read about the impact on both the economy and the share market, please see AMP Capital's latest market commentary for more information. 
In terms of the home loan market; all lenders have increased their variable interest rates by 0.25% so far. The table below captures the dates the interest rate increase goes in.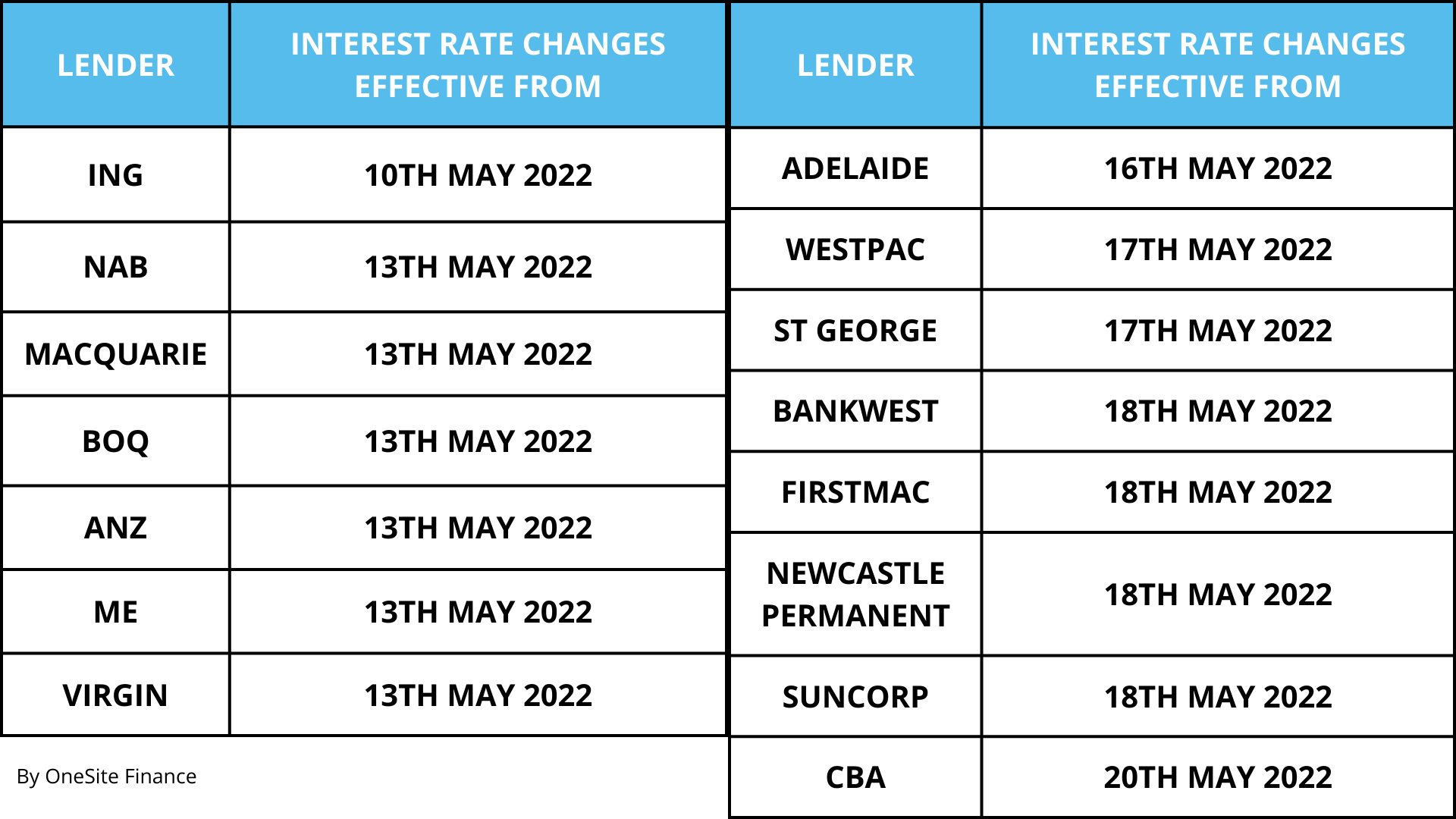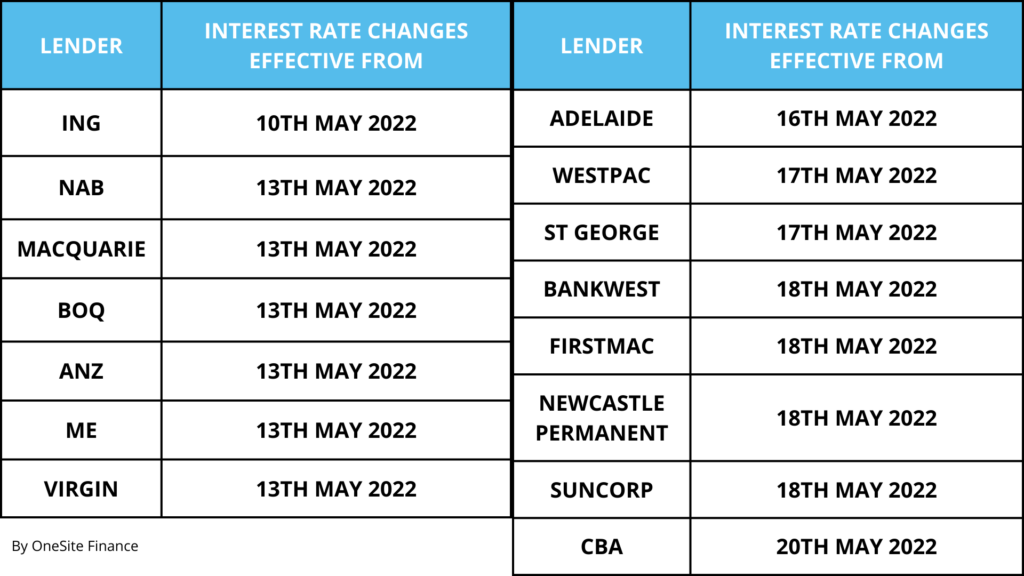 To Fix Or Not To Fix?
This brings us to the topic of fixing part or all of our home loan. Here, we will try to answer the following questions:
Why Would I Fix My Home Loan?
There are many advantages to getting a fixed rate home loan:
If you lock in your interest rate (1, 2, 3, 4, or 5 years) you

know exactly what your repayments will be each month

. If you're starting out on your home loan journey, locking in a competitive long-term interest rate could be a smart move

Set weekly, fortnightly or monthly repayments. You'll have a clear idea of your weekly, fortnightly, or monthly payments for the fixed term of your loan, which

makes budgeting and managing your money easier

Protect yourself against interest rate rises. By locking in a fixed interest rate, 

you can protect yourself from rate rises that may occur in the future

. At least for the period of the fixed-rate term

Knowing your home loan repayments with certainty allows you to plan for the future and 

set financial goals with confidence
For more information, you can read our article which outlines when you should fix your home loan.
Why Wouldn't I Fix My Home Loan? When is fixing my home loan a bad idea?
A fixed-rate home loan works in a very different way from a variable-rate home loan. By fixing your mortgage, you lose a lot of the flexibility and may face higher exit fees if you make changes to your loan or make extra repayments during the fixed-rate period.
DO NOT fix your home loan if:
You 

want to make extra or larger repayments

on your home loan

You plan to 

sell your property

within the fixed term. There may be loan break fees to pay

You plan to 

refinance your home loan

 within the fixed term. Again, there may be loan break fees to pay

You plan to 

renovate or build a new home and plan to use the equity

 in your property within the fixed term

You don't like being locked in with a particular lender or loan product
Current Specials
There are a number of special offers currently. Remember if you are looking at the bank's website, some banks have NOT updated their rates yet and are still quoting the rates BEFORE the current rate rise – they will add the 0.25% increase soon. 
Just generally, your interest rate depends on:
Your loan size – Some lenders offer a lower rate for higher loan size
Your Loan to Value Ratio (LVR) – Some lenders offer a low rate for lower LVRs. It's a safer loan for them to make
Whether you choose Principal and Interest or Interest Only – Principal and Interest home loans come with lower interest rates. Again, lower risk for the lender
Whether your loan is Investment Loan or Owner-Occupied Loan – Owner Occupied home loans are the cheapest
Whether your loan has an offset account or not – Some lenders offer a better rate for NON offset loan products
Owner Occupied – Variable
From 1.99% (before the rate rise) or 2.24% (after the rate rise)
Investment – Variable
From 2.21% (before the rate rise) or 2.46% (after the rate rise)
How do you check your Loan to Value Ratio (LVR)?
Contact us and we can do a FREE property valuation. Remember, the lower your LVR, the cheaper the interest rate will be!